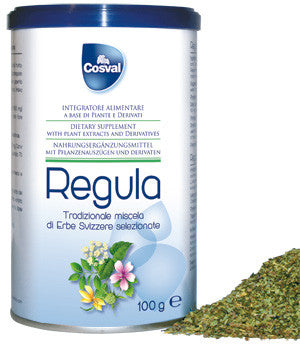 Regula Selected Swiss herbs blend 100g
€9.00
Dietary supplement plant and plant extract
Content: 100 g.
DESCRIPTION
Regula Selected Swiss herbs blend

Ingredients: d.e. of Senna (Cassia angustifolia Vhal) fruit; Maltodextrin from corn; Caraway (Carum carvi L.) fruits, Eryngo (Eryngium campestre L.) roots,
Peppermint [Mentha piperita (L.) Hudson] leaves, Licorice (Glycyrrhiza glabra L.) roots, Mallow (Malva sylvestris L.) leaves; Sweeteners: sorbitol.

Suggested dosage: ingest 1⁄2 a teaspoon of mixture (± 1500 mgs) with some water, to the evening before lying down · Non to make infusions.

Physiological effect: Senna promote bowel function; Caraway and Mint promote the elimination of gases.

Daily contents of vegetable extracts: Senna 720 mgs, Caraway 120 mgs, Eryngo 100 mgs, Peppermint 70 mgs, Licorice 70 mgs, Mallow 20 mg.

Storage: To preserve in fresh and dry place· to carefully close.

Directions: Do not overdose suggested daily dosage · The product should be used in addition to a varied and balanced diet and a healthy lifestyle · Keep out of the reach of children under three years.

Precautions: Not to be taken during pregnancy. It contains Licorice.
Ministry of Health Register N. 15978
Related Products