7 Secrets Cream 30 ml
€50.00
7 Secrets Cream 30 ml
Revolutionary formula based on the exclusive technology "Secret 7 Complex". A perfect alchemy of 7 active plants, able to reactivate the energy flows in cellular communication and to act on the skin's balance to limit and correct loss of firmness and elasticity, by fighting wrinkles formation.  
Skin's tone becomes uniform, flawless, visibly brighter and youthful.
How to use: apply each morning and evening to cleansed face and neck with light massaging. 
Contains: Rubus Idaeus plant cells, Nicotiana Sylvestris, Solanum Lycopersicum, Psilanthus Bengalensis, extracts of Opuntia Ficus Indica, Dolichos biflorus, Butyrospermum Parkii, Tocopherol  and Limnanthes Alba oil.
View Product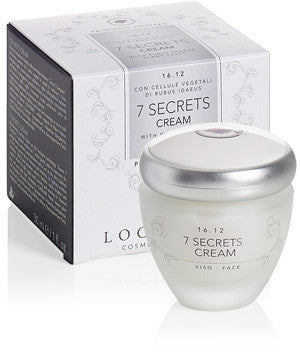 Frontpage
Herbalvalley GmbH is a team of young marketing professionals founded in November 2005. Our goal is to make this world an even healthier and happier place where to live. 
We decided to sell online these brands Sanotint, Locherber Migliorin and Cosval after a long market research and study. We discovered there are many personal care products, haircolors, skin care, perfumes, hairloss products, but only a few are among the very best. We want to provide our customers only with with what the market can offer as a best product, and keep its promise. Sanotint hair colors are so gentle, without ammonia, Sanotint Light without PPD, covering grey hair with a permanent result. Locherber cosmetics have high quality swiss made and very affordable.
Our Company is based in Wuppenau, a small village in the swiss country side, where humans live in respect with the nauture surrounding us. Thanks to our loyal customers, valuable products, and right marketing , we had the priviledge  to celebrate our 10th anniversary in 2015.
You can contact us here info@herbalvalley.biz
visit us on facebook here https://www.facebook.com/HerbalvalleyGmbh
The Herbalvalley Team