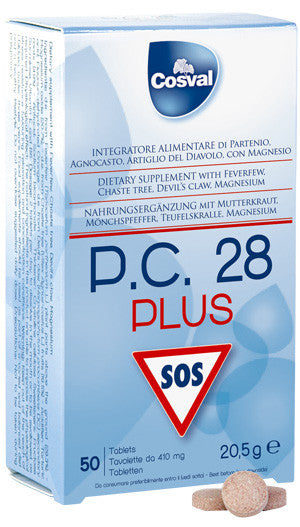 P.C. 28 PLUS 50 tab.
€23.00
Dietary supplement with Feverfew Chaste tre Devil's Claw, Magensium
50 tabalets 410mg
PC 28 plus tablet.

Ingredients: d.e. from Feverfew (Tanacetum parthenium L.) plant parts above the ground (29.3%); Magnesium oxide (20.7%); - d.e. from Chaste tree (Vitex Agnus-castus L.) fruits (19.5%); Acidifier: Tartaric acid; Flavour: dehydrated Orange; d.e. from Devil's claw (Harpagophytum procumbens DC.) secondary roots (4,9%); Antiacid: Sodium bicarbonate; Thickener: Crystalline cellulose; Fructose, Sweetner: Sucralose; Vit. E (D - alpha-tocopherol), Vit. B6 (pyridoxine hydrochloride).
Physiological effect: Vitamin B6 contributes to normal functioning of the nervous system.
Suggested dosage: 2 tablets per day, to dissolve in the mouth or to be swallowed, as required.

Daily contents of plant extracts: Feverfew 240 mg, Chaste tree 160 mg, Devil's claw 40 mg.

Daily contents of vitamins: Vit. E 10 mg (83,3% DRI), Vit. B6 2 mg (142,8% DRI).

Daily contents of minerals: Magnesium 100 mg (33,3% RDA).

Storage: store in a cool dry place (< 25 °C).

Warning: keep out of the reach of children under three years • Herbal supplements should be used as part of a varied and balanced diet and a healthy lifestyle. • Do not exceed daily recommended dose.

Precautions: not to be taken during pregnancy

Registro del Ministero della Salute  N° 14320